Pool of Bethesda

The Pool of Bethesda (also known as Bethsaida) is located near the Sheep Gate just north of the Temple Mount in Jerusalem. In his gospel account, John describes such a pool, surrounded by five covered colonnades (John 5:2). Until the 19th century, there was no archaeological evidence for the Pool of Bethesda, so skeptics used this as proof that Johnís account was written by some later zealot who didnít have eyewitness knowledge of Jerusalem or an actual pool called Bethesda.

Today, thereís really no question that archaeologists have uncovered the actual Pool of Bethesda where Jesus healed the invalid (John 5:1-15). The colonnades were visible to John at the time of Jesus, but the pool probably didnít appear sunken and surrounded by walls like it does today.



© 2009 AllAboutGOD.com; View our

Copyright Notice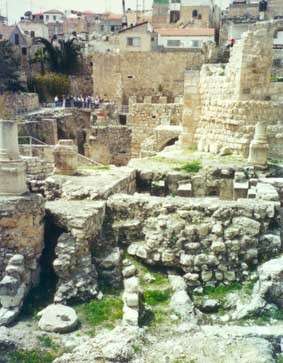 © 2009 AllAboutGOD.com; View our

Copyright Notice



Evidence For Jesus - Go!


Like this information? Help us by sharing it with others using the social media buttons below.