Shechem
Shechem
Why was the city of Shechem an important archaeological find? The ancient city of Shechem plays a prominent role in the Bible. The Lord spoke to Abraham near Shechem after commanding him to leave his home in Haran (Genesis 12:1-7). Jacob later settled near Shechem after leaving his father-in-law Laban in Padan Aram (Genesis 33:18). Simeon and Levi killed all the males of Shechem after the rape of their sister Dinah (Genesis 34). Shechem was allotted to the tribe of Ephraim following the Israelite conquest of the Promised Land (Joshua 20:7). Joseph was buried in Shechem after his body was exhumed and brought from Egypt (Joshua 24:32). Rehoboam was crowned in Shechem following the death of Solomon (1 Kings 12:1). Shechem briefly served as Jeroboam's capital following the division of the Kingdom into the Northern and Southern Kingdoms (1 Kings 12:25). And although the city no longer existed in Jesus' day, it was the original site of Jacob's Well where Jesus spoke with the woman of Samaria (John 4:1-42).
The city of Shechem is mentioned by name in Genesis, Joshua, Judges, 1 Kings, 1 Chronicles, 2 Chronicles, Psalms, Jeremiah, and Hosea. When the city of Shechem was discovered it was thus a great source of vindication for the biblical record.
Shechem is mentioned by other historical sources outside of the Bible including an Egyptian Stele and the writings of Josephus.
This excavation has been identified as the Temple of Baal Berith (Judges 9). Funds generated at this temple financed Abimelechís government. Itís also the building where Shechemís people took refuge during Abimelech's attack.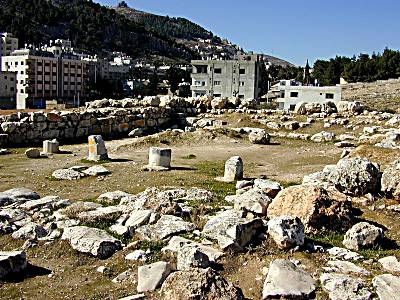 © 2005 BiblePlaces.com, Under license policy. View our Copyright Notice
Like this information? Help us by sharing it with others. What is this?