Star of Bethlehem
QUESTION: Star of Bethlehem
ANSWER:
Although we don't know the actual location of Christ's manger in Bethlehem, a traditional site at the Church of the Nativity has been marked since the 4th century by a silver star in an ornate setting -- the "Star of Bethlehem."
Under the marble slabs and ornamentation of the Star of Bethlehem, there are natural cave walls and a grotto that many scholars believe is the actual birthplace of Jesus Christ (Luke 2:7). The Star of Bethlehem has become the symbolic destination of pilgrimage for Christians since Constantine.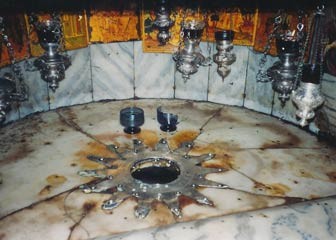 © 2009 AllAboutGOD.com; View our Copyright Notice.
WHAT DO YOU THINK?

- We have all
sinned
and deserve God's judgment.
God
, the Father, sent His only Son to satisfy that judgment for those who believe in Him.
Jesus
, the creator and eternal Son of God, who lived a sinless life, loves us so much that He
died
for our sins, taking the punishment that we deserve, was
buried
, and
rose from the dead
according to the
Bible
. If you truly believe and trust this in your heart, receiving Jesus alone as your
Savior
, declaring, "
Jesus is Lord
," you will be saved from
judgment
and spend eternity with God in heaven.
What is your response?
Yes, today I am deciding to follow Jesus
Yes, I am already a follower of Jesus
I still have questions