Ancient Pergamum
QUESTION: Ancient Pergamum
ANSWER:
Ancient Pergamum is located on the plains and foothills along the Caicus River in Western Turkey. It was considered a major city in Asia Minor since the 3rd century BC, and became a Greek and Roman hub for worshipping Aesclepius, the god of healing, and Serapis, the Egyptian god of the underworld.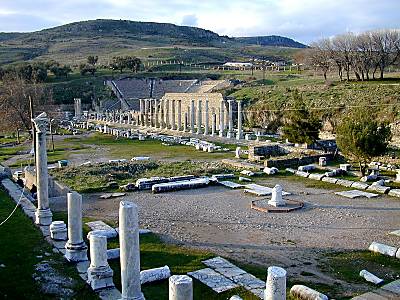 © www.BiblePlaces.com; Under license policy. View our Copyright Notice.
The ruins of ancient Pergamum include the acropolis, the worship complexes known as the Aesclepium and Serapeum, and the incredible 10,000-seat amphitheatre built into the side of a steep hill. The marble Temple of Emperor Trajan from the second century AD has also been excavated and restored. The Trajan complex includes a huge library, the second largest after Alexandria, Egypt in the ancient world.
WHAT DO YOU THINK?

- We have all
sinned
and deserve God's judgment.
God
, the Father, sent His only Son to satisfy that judgment for those who believe in Him.
Jesus
, the creator and eternal Son of God, who lived a sinless life, loves us so much that He
died
for our sins, taking the punishment that we deserve, was
buried
, and
rose from the dead
according to the
Bible
. If you truly believe and trust this in your heart, receiving Jesus alone as your
Savior
, declaring, "
Jesus is Lord
," you will be saved from
judgment
and spend eternity with God in heaven.
What is your response?
Yes, today I am deciding to follow Jesus
Yes, I am already a follower of Jesus
I still have questions