Crucifixion Evidence
QUESTION: Crucifixion Evidence
ANSWER:
Is there evidence for crucifixion, the routine execution method of the Romans used on Jesus Christ, outside the Bible?
In 1968, an ancient Jewish cemetery was unearthed during construction. There, a heel bone was discovered in the grave of a young criminal that contains an iron nail matching the record of crucifixion. Remnants of a wooden board are still attached at one end, where the nail was bent over to hold the foot on the cross.
It appears the nail hit a knot in the wood of the cross and didn't allow removal of the body without serious damage. Therefore, the family conducting the burial probably chose to leave the spike in the bone and cut away a section of the wood. The heel bone dates to the first century AD and provides grim evidence for the reality of crucifixion.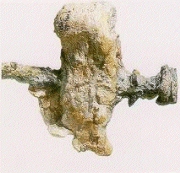 © 2009 AllAboutGOD.com; View our Copyright Notice.
WHAT DO YOU THINK?

- We have all
sinned
and deserve God's judgment.
God
, the Father, sent His only Son to satisfy that judgment for those who believe in Him.
Jesus
, the creator and eternal Son of God, who lived a sinless life, loves us so much that He
died
for our sins, taking the punishment that we deserve, was
buried
, and
rose from the dead
according to the
Bible
. If you truly believe and trust this in your heart, receiving Jesus alone as your
Savior
, declaring, "
Jesus is Lord
," you will be saved from
judgment
and spend eternity with God in heaven.
What is your response?
Yes, today I am deciding to follow Jesus
Yes, I am already a follower of Jesus
I still have questions