House of Yahweh Ostracon
QUESTION: House of Yahweh Ostracon
ANSWER:
The House of Yahweh Ostracon (a writing on pottery also known as the "House of God Ostracon") was discovered in Arad, an ancient Judean city. Written in ancient Hebrew and dated to the early 6th century BC, it is considered to be one of the earliest references to the Temple in Jerusalem outside of the biblical accounts.
The House of Yahweh Ostracon reads, in part, as follows: "To my lord Elyashib, may the Lord seek your welfare…and as to the matter which you command me-it is well; he is in the House of Yahweh [God]."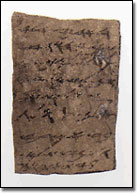 © 2005 The Foundation for Biblical Archaeology. See our Copyright Notice
WHAT DO YOU THINK?

- We have all
sinned
and deserve God's judgment.
God
, the Father, sent His only Son to satisfy that judgment for those who believe in Him.
Jesus
, the creator and eternal Son of God, who lived a sinless life, loves us so much that He
died
for our sins, taking the punishment that we deserve, was
buried
, and
rose from the dead
according to the
Bible
. If you truly believe and trust this in your heart, receiving Jesus alone as your
Savior
, declaring, "
Jesus is Lord
," you will be saved from
judgment
and spend eternity with God in heaven.
What is your response?
Yes, today I am deciding to follow Jesus
Yes, I am already a follower of Jesus
I still have questions