Pool of Siloam
QUESTION: Pool of Siloam
ANSWER:
The Pool of Siloam is the ancient termination point for King Hezekiah's famous tunnel that brought water from the Gihon Spring at the floor of the Kidron Valley into the City of Jerusalem. The 1,750 foot tunnel was dug by two separate teams that miraculously met in the middle. The famous Siloam Inscription commemorates the engineering marvel that brought water to the Pool of Siloam and protected Jerusalem's water supply in the event of siege.
In the time of Jesus, the Pool of Siloam was the site where Christ healed the blind man by having him cake mud and saliva in his eyes and then wash his eyes in the pool (John 9:1-7). In the 400's AD, a church was built above a pool attached to Hezekiah's tunnel to commemorate the miracle of Jesus and the blind man. Until recently, this was considered the traditional site for the Pool of Siloam during the time of Christ.
Then, in 2004, archaeologists stumbled upon the true 1
st
century Pool of Siloam when sewer engineers uncovered ancient steps during pipe maintenance near the mouth of Hezekiah's ancient water tunnel. The bulldozers were immediately stopped, and by the summer of 2005, archaeologists carefully revealed the actual Pool of Siloam from the time of Jesus. Pottery indicates that this was indeed the Pool of Siloam used during the first century AD.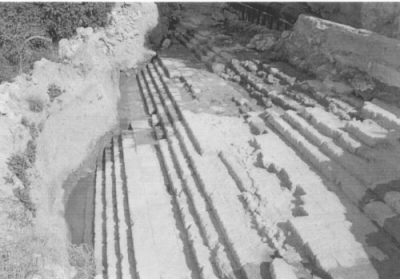 © 2009 AllAboutGOD.com; View our Copyright Notice.
WHAT DO YOU THINK?

- We have all
sinned
and deserve God's judgment.
God
, the Father, sent His only Son to satisfy that judgment for those who believe in Him.
Jesus
, the creator and eternal Son of God, who lived a sinless life, loves us so much that He
died
for our sins, taking the punishment that we deserve, was
buried
, and
rose from the dead
according to the
Bible
. If you truly believe and trust this in your heart, receiving Jesus alone as your
Savior
, declaring, "
Jesus is Lord
," you will be saved from
judgment
and spend eternity with God in heaven.
What is your response?
Yes, today I am deciding to follow Jesus
Yes, I am already a follower of Jesus
I still have questions