Shishak Relief
QUESTION: Shishak Relief
ANSWER:
Pharaoh Shishak (945-924 B.C.) invaded Israel and Judah in 925 B.C. and carried off the treasures of Jerusalem's temple. The Bible records the attack from Judah's perspective in 2 Chronicles 12, but the Shishak Relief in the
Karnak Temple
gives much greater detail. Most scholars agree that the following biblical cities are mentioned: Arad, Beth-Horon, Beth-Shean, Gibeon, Mahanaim, Megiddo, Rehob, and Taanach.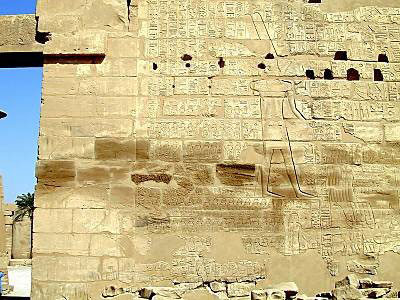 © 2005 www.BiblePlaces.com, Under license policy. See our Copyright Notice
WHAT DO YOU THINK?

- We have all
sinned
and deserve God's judgment.
God
, the Father, sent His only Son to satisfy that judgment for those who believe in Him.
Jesus
, the creator and eternal Son of God, who lived a sinless life, loves us so much that He
died
for our sins, taking the punishment that we deserve, was
buried
, and
rose from the dead
according to the
Bible
. If you truly believe and trust this in your heart, receiving Jesus alone as your
Savior
, declaring, "
Jesus is Lord
," you will be saved from
judgment
and spend eternity with God in heaven.
What is your response?
Yes, today I am deciding to follow Jesus
Yes, I am already a follower of Jesus
I still have questions